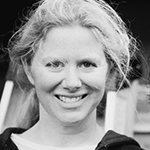 created by
Tabbatha Henry
Artist Tabbatha Henry has been working as a clay sculptor for 15 years. She fell in love with clay in college while getting her Bachelor's degree in political science, and after graduating, she quickly abandoned any previous political aspirations.
Her artistic education is mostly through apprenticeships and work/study situations with many different ceramic artists. After many years of honing her technical knowledge, Tabbatha went back to school in 2002 to get her Master's in Fine Arts. After graduating, she moved to Vermont to pursue her career as a ceramic artist.
"My inspiration flows from many sources. Most of my work is born from my love of nature and the patterns, textures and beauty found within the Vermont landscape.
"My work is simple in color, with an emphasis on form and texture. The ceramic process is very important to me: it mimics the processes of nature, because it is nature. Clay is of the earth, and the process of working with it is merely the human manipulation of elements.
"I try to show, even exploit, these elements in my work, combining the human touch with the natural processes that occur during the various stages of working: forming, drying, firing, and celebrating the resulting imperfections, cracks and drips. Time, heat and pressure all play a part in the shaping of the world around us, and are integral in my processes."