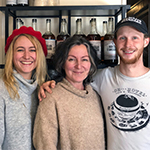 created by
Marianne Courville, Emily Woerthman, & Anja Rothe
Marianne Courville had a successful career in fine-art photography and ran a wine and spirits store with her husband in Hudson, NY. She became passionate about making shrubs and bitters, with a firm commitment to sourcing as much of the ingredients locally from farmers as well as growing and foraging with her crew.

Emily Woerthman is a dedicated mountain woman, and when not taking art, banjo, and singing lessons, spends much of her time foraging and lovingly making and selling shrubs and bitters.

Anja Rothe is a certified herbalist who brings kitchen skills and a degree in anthropology to her collaborations. She also has the sharpest wit and keeps the team laughing.

Together, this trio aims to raise the quality of small batch beverage bitters and syrups by featuring the pure flavors of the Hudson Valley. They're dedicated to reviving an early American tradition of making "preserved" syrups (shrubs) from a time before refrigeration and commercially made soda existed. Their small batch shrubs are made with organic apple cider vinegar that is blended with local fruits and organic sweeteners. Their bitters also follow a traditional, slow process of extracting botanical flavors with alcohol and blending them into complex flavors. Their products appeal to cocktail enthusiasts and natural soda lovers, as well as those looking for the healthy boost of apple cider vinegar and bitters as digestive aids.