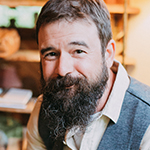 Jeremy Sinkus grew up snorkeling along the shores of Cape Cod. Now he spends his free time scuba diving, taking in the colors, shapes, and serenity of the ocean.

He still lives in Massachusetts, where the beauty of nature informs his glasswork. "To manipulate molten glass with fire is a way to look closer and experience what I love with an almost extreme mode of consciousness," says Jeremy, who's been sculpting glass for more than 15 years. "This heightened sense of awareness is what I strive to maintain. It is the same sense I experience while diving. Staying present with my work helps me when trying to find a balance of color, light, transparency, and form."

Through his designs, Jeremy hopes to capture the beauty and fragility of ecosystems, whether it's the vibrant colors of coral reefs or the geometrically perfect hexagons of honeycombs.