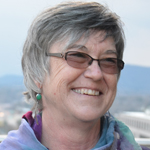 created by
Catherine Murphy
location
North Carolina
"Like attracts like, as well as inspires it."
Growing up in a military family, Catherine Murphy spent her childhood discovering new places around the world and every locale's characteristic outdoor sites. Each time she sits down to create a new piece, however, the metalworker pictures it living in her favorite place in the world: "a fabulous garden," she says, adding that she's "amazed and inspired by life in the garden."

Her nature-themed wire copper sculptures only serve to make the green spaces themselves more amazing. In fact, it's that merging of her two loves that "feeds my soul and keeps me motivated," she says. And if the North Carolina resident ever gets stuck, all she needs to do is go outside. "When those moments come up, my go-to spot is a bench by the river," she says. "Living in the mountains and working beside a river make for a wealth of inspiration."

Visit the blog for more on Catherine's creations.